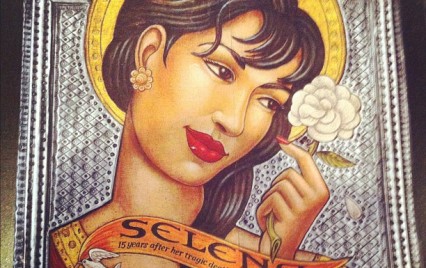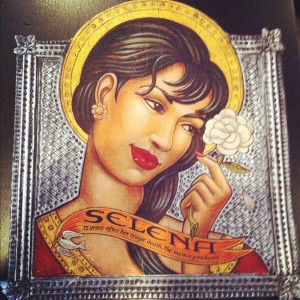 Tomorrow, March 31st,  marks the seventeenth anniversary of Selena's death.
Selena was one of the first powerful role models that young Latinas and Chicanitas had growing up in the Gen-Y and Gen-X groups.  My sister and I would compete in Selena competitions, and my sister was amazing an amazing 8-year old impersonator of Selena.  I remember loving that she spoke Spanish and English and would speak in Spanglish when she got flustered. I loved the outfits she wore and how connected she was to her fans, family and community.  Her songs played on English and Spanish radio stations and it was inspiring to see a strong Latina in the limelight and adored by millions of people around the world.
Her loss hit hard because she was a rising star in the music industry but in our community as well. She proved that anything and everything is possible, as long as you believe in it and never stop trying. We honor you and your beautiful spirit that has made such an impact for so many current and rising stars.
via Wikipedia
Selena Quintanilla-Pérez (April 16, 1971 – March 31, 1995), known simply as Selena, was a Mexican American singer-songwriter. She was named the "top Latin artist of the '90s" and "Best selling Latin artist of the decade" by Billboard for her fourteen top-ten singles in the Top Latin Songs chart, including seven number-one hits.  She had the most singles of 1994 and 1995, "Amor Prohibido" and "No Me Queda Más".  She was called "The Queen of Tejano music" and the Mexican equivalent of Madonna.Selena released her first album, Selena y Los Dinos, at the age of twelve. She won Female Vocalist of the Year at the 1987 Tejano Music Awards and landed a recording contract with EMI a few years later. Her fame grew throughout the early 1990s, especially in Spanish-speaking countries.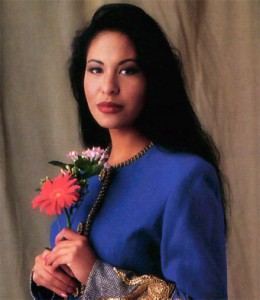 Selena was murdered at the age of 23 by Yolanda Saldívar, the president of her fan club. On April 12, 1995, two weeks after her death, George W. Bush, governor of Texas at the time, declared her birthday "Selena Day" in Texas.[5] Warner Bros. produced Selena, a film based on her life starring Jennifer Lopez, in 1997. Selena's life was also the basis of the musical Selena Forever starring Veronica Vazquez as Selena. In June 2006 Selena was commemorated with a life-sized bronze statue (Mirador de la Flor in Corpus Christi, Texas) and a Selena museum opened there. She has sold over 60 million albums worldwide.[6]
We leave you with our favorite performance of her live at the AstroDome.